I have been making websites for over 10 years now, mostly as a side hustle. I'm not a designer nor a developer, but I use WordPress as a base and then apply pre-designed themes. This way of working is the cheapest way to get a good basic website for any (starting) business. Over the years I've learned quite a bit about which themes are good/easy to use and wanted to share my top 5.
First of all, I buy all my themes on themeforest.net. They're the main source of WordPress themes for anyone, have been around for ages and the reviews of each theme are extensive.
What makes a good theme?
I have a few stipulations that need to be met in order for a theme to 'qualify' as good.
Good and active support.
If anything goes wrong, you want to have a quick resolution.
Needs to be around for some time.
That way all the kinks have been worked out and you can count on the fact that the reviews are actual reviews.
Have a good visual composer.
This is what you will use to lay-out pages (add columns and special elements like graphs, etc.). You want this to either have its own version of a composer or have a good integration with Visual Composer (the plugin most themes use).
Should be user friendly.
Something you can only find out once you start using it unfortunately.
Needs to be well designed.
This one sounds obvious but you'd be surprised at how many themes have demos that just lack attention to detail.
Compatibility with WooCommerce & WPML plugins.
So you can turn your website into a webshop (WooCommerce) or show your site in multiple languages.
This last one is not a necessity for a 'basic' website. But I find that theme who have this compatibility generally are of better quality.
How I use a theme
Each theme usually has at least 5 pre-made demos or examples of how you can use the theme. So I'll start by going through the list of demo themes. They'll have made a 'main' demo site, perhaps one for a business website or one for a creative professional. Sometimes they'll even have niche demos like architect websites or fitness gym demos. It depends on the theme.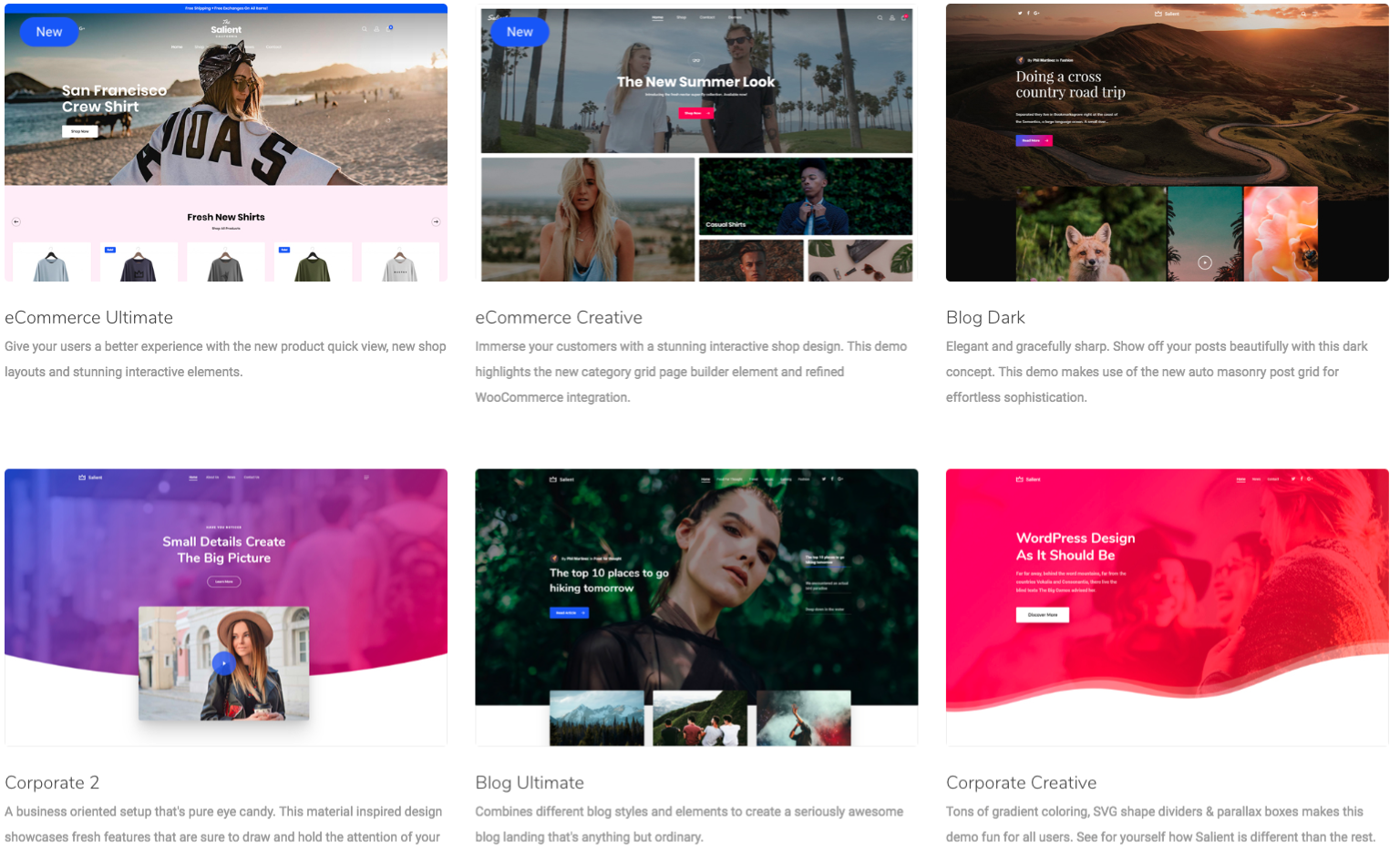 Once I've found the demo that matches best with the vision I have for the website, I'll simply import this demo to my website and slowly start changing paragraphs, images, etc. Until I have a website of my own.
My top 5 WordPress themes
Bridge
This theme currently has almost 400 different demos. That's a huuuuge selection of templates to start with. Which is definitely a benefit if you're new to this or lack inspiration (like I sometimes do ;-)
The big plus for me is that it integrates really well with Visual Composer, which means you don't have to use shortcodes in order to get any of their extra elements on your web pages.
Best for: beginners who want a fancy looking website.
You can get it here at Themeforest.
The7
The7 claims to be the most customisable theme on the web and it might just be. There's a million things you can customise, adapt and modify. Which is awesome if you have some experience and know what you're doing. But if you're just starting out, you really want something that has less bells and whistles.
That being said, this is probably the theme I use most for my clients.
Best for: more advanced WordPress users who know what they want.
Buy it here at Themeforest.
Salient
I like Salient because it's well designed, but it's slightly different from the 'usual' design. You know how all websites pretty much look the same these days? They all have wide sections, big images, big text, etc.? Well, Salient has done a nice job of making demo sites that are just a tad different. So you can stand out from the crowd.
Best for: more creative websites.
Get your copy here at Themeforest.
Dani
Dani is a very elegant and simple theme. Not too many bells and whistles but still well designed. Why I like it? Because you really can't go wrong here … any page you create with Dani will just look good and well designed. They've somehow succeeded in making a theme that just works for anything.
Best for: the minimalists among us.
You can get yours here at Themeforest.
Newspaper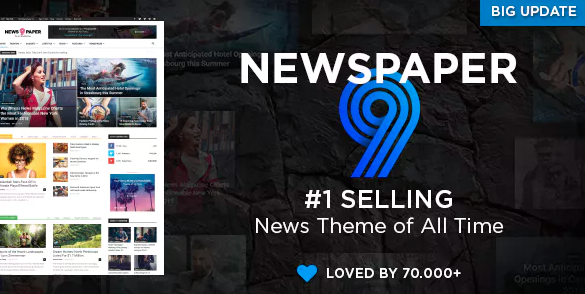 I can't talk about themes and not mention the one I'm using right now :-) I first used Newspaper for a client a few years ago and must say I'm impressed with the evolution they've made. They have a good amount of demo websites to start from depending on wether you want to be a blogger or news site. And I really like their own composer. It's very quick and easy to work with. It might have a few too many options for me right now, but I'm sure this will be convenient in the future.
Best for: aspiring bloggers that want to manage their own website.
Get the theme on Themeforest if you want to start your own blog.
ps: Don't forget to comply with GDPR regulations. I use a tool called Iubenda to handle my cookie pop-up and create my custom Privacy Policy.
Do you have any questions about these themes? Or how themes work in general? Let me know in the comments.